Standard Peptide Synthesis Services
Scientists at KareBay have developed a reliable synthesis platform and purification system to ensure a success rate of over 95%, even for peptides as long as 180 amino acids or with complex modifications like triple-bisulfide bridges or Fmoc labelling.
In order to provide the highest satisfaction, KareBay offers three packages to help you pick the best-fit solution for your biological or preclinical research.
Rush and Savings Package*: KareBay has developed a green channel for your urgent orders, and is offering you substantial savings to make your project more efficient. Experienced scientists developed a faster routing from synthesis to purification ensuring delivery within two weeks! Your orders will be delivered with complete reports of HPLC trace, MS Spectrometry and Certificate of Analysis.
Wise Choice Package: This is the most popular solution for peptide-based research projects. KareBay's professional chemical team is committed to providing the best custom peptide synthesis services with highest success rates for complex peptides and modifications and extremely long peptide sequences. Our professional scientists can work closely with you to deliver the best results. Projects typically require 3 to 4 weeks from purchase order to delivery of your order with complete reports, including HPLC trace, MS profile and Certificate of Analysis.
cGMP Grade Package: Our team understands the urgent demand of high quality and safe peptide reagents to realize your ambitious project in the peptide-based pharmaceutical enterprise. KareBay's complete GMP-friendly facility enables us to produce your orders at the milligram through gram scale, providing the most reliable reagents for pre-clinical research. Multiple tests ensure the integrity of our GMP-Grade reagents, including toxicity and pH tests. Detailed reports are delivered corresponding to each integrity test, in addition to the regular quality reports (HPLC trace, MS and CoA file).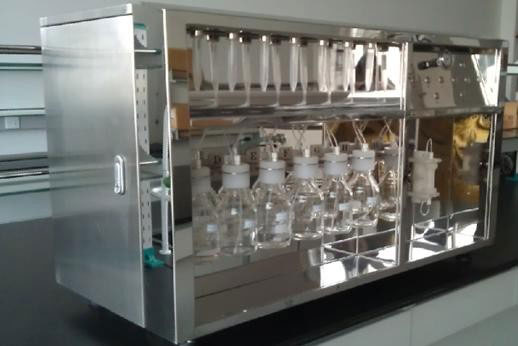 Service Specifications:
Purity: Crude, Desalt, >70%, >75%, >80%, >85%, >90%, >95% and >99%
Length: 5-110 amino acids
Quantities: wide range from mg to kg
Documentation: COA, HPLC and MS profiles
Modifications and special amino acids: comprehensive options include D-form amino acids, Biotin and FITC labeling and KHL/BSA Conjugation.Learn more at Bioconjugation Service
Turnaround time: 2-4 weeks.
* Notice: For the Rush and Savings Package, certain restrictions may be applied to the length, purity and complexity of the requested peptides. Our skilled PhD level technology support team will assess your peptides, and carry out the suggested package within 24 hours.
How to get started
Please download Peptide Order Form and contact us with your requests at service@karebaybio.com and we will reply with a detailed quote as soon as possible(you can leave us a message here). This process usually takes between 24 and 48 hours and the quote will include an estimated price as well as the time required to complete the project. All inquiries and subsequent projects are handled in strict confidence and will be backed by a confidentiality agreement if desired.